A solid read. What was truly fun is that I'm listening to Edward Rutherfurd's
Sarum: The Novel of England
on audio, and Lacey's book is almost a color commentary of
Sarum
. I kept wondering if Lacey read Rutherfurd's novel, and created these short nonfiction bits based on the best history found in Rutherfurd's tome. I'm absolutely sure that's not true, but reading this and listening to has definitely been a double-whammy of English history.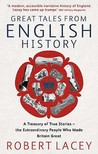 Great Tales From English History Omnibus
by
Robert Lacey
My rating:
4 of 5 stars
Very solid; short, entertaining bits about British history that pithily separates the wheat from the chaff; if the chaff is legend and the wheat is truth, Lacey lets you savor the sweet chaff a bit before discarding it, which is nice. Great fun.
View all my reviews