I had to go back and re-read some of
Witches of Lychford
but they are such good books that it was completely worth it. They are so short though - truly novellas rather than novels. But the novella format doesn't detract from the punch and beauty of these books; they are deliciously fun to read!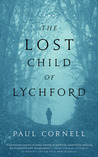 The Lost Child of Lychford
by
Paul Cornell
My rating:
5 of 5 stars
Paul Cornell's second venture into Lychford is as good as his first. The book is so short - it's another novella - that I'm afraid if I go to far into writing about it, I will give some important stuff away. Here's a list of important and intriguing things about the book: it's Christmas, a doppelganger (I've never encountered one in a book EVER, good job Mr. Cornell!), fairies (real fairies, not Tinkerbell), and three witches. If you've read this list and your eyes light up on each word, then this book's for you Read
Witches of Lychford
first; you can probably read both of them in about two hours or less. But I promise you, it will be two delightful, enchanting, gripping and wonderful hours.
View all my reviews